Below - the story and photos of the 2011 Automodellismo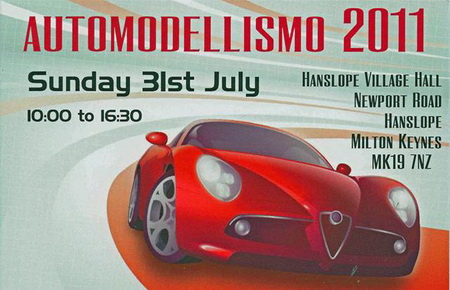 AUTOMODELLISMO was held on 31st July at its new venue for 2011, Hanslope Village Hall.
A small - but select - location, home also to November's HaMeX, the day, sunny for most of the time, greeted people both enthusiastic modellers who had travelled and also those from the Village itself, who came to see what all the fuss was about!
Various clubs and individuals put on displays, while model kits tools and accessories could be bought from Vince Brown of Models For Sale; organiser Paul Fitzmaurice, of little-cars.com and co-organiser, Mat Irvine, who also bought along a display of model cars.
The event is run to rise funds for the Hall itself, and the secretary of the Hall Committee, Dr John Sorrell, presented the AUTOMODELLISMO award, donated by little-cars.com, for the best display. This went to Rod and Ian Knott with their amazing 'Motor Museum in Miniature'.
Rod and Ian Knott - winners of the 2011 AUTOMODELLISMO Best Display trophy for their Motor Museum in Miniature.

Check their Facebook page
Outside was special display of - full-size - cars, kindly loaned by people from the Village. So grateful thanks go to Ian Willis for his MG-TF; Geoff Luckhurst for his Cougar / Jaguar kit car; Kevin Bryce for his Aston Martin DB-S and Adrian Hughes for his 2009 Ford Mustang. And just to add to the collection, Darren Rhodes, who drove up from Kingston, happened to drive up in his bright metallic blue TVR 350C - so that got added to the collection.
Les Garagisters display of racing machinery.

Nick Allen has masterminded the Beyond the Box SIG (Special Interest Groups) for the IPMS - using the creations of Nick Park made as Airfix kits, especially Wallace & Gromit and Shawn the Sheep.

"You takin' a picture of me???"

You don't mess with the smiling guys from the Milton Keynes Model Club

"Ooo Daddy, toys..."

Young visitors, hopefully modellers themselves in a few years, admire some of the Watford Club's display

"'...'ere, you seen this..."

The Watford Model Club check some references

Universal Model Society, with Martin Betts, in the mid-distance, and the display from the West Berkshire Scale Model Club in the foreground

Organiser, Paul Fitzmaurice, of little-cars.com , just gets into shot, opening a window, far right

The blatant plug for Mat's model car book, Scale Car Modelling. (It does what it says on the tin...) More at his smallspace site

Co-organiser Mat Irvine, left, with friend Neil Sydee, centre, and Mat's daughter Amy

Some of the other models on display from The Mat Irvine Collection
Photos by Mat Irvine, Darren Rhodes and Georgy Liddle
---
For further details on future events, please contact:
Paul Fitzmaurice email: paul@hamex.co.uk phone 01234 711980
Mat Irvine email: mat@hamex.co.uk
---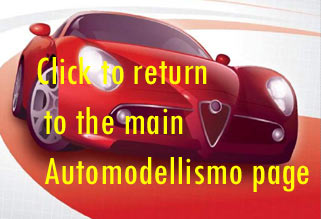 ---