HaMeX EVENTS – COVID 19 - and general
NEW UPDATE SEPTEMBER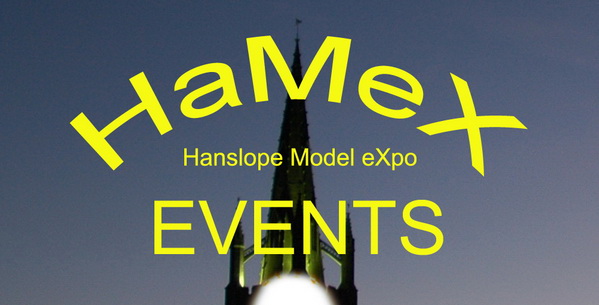 The current situation - as from September 9th
We had hoped to run what would The Model Market 8 (what would have been 'HaMeX' itself) over the weekend of 28-29 November at its usual venue, Hanslope Village Hall.
But the recent government announcement forbidding meetings of "over six people" means this cannot now go ahead.
However we will be continually monitoring the situation and aim to give regular updates via the Facebook page.
Comments to email info@hamex.co.uk or leave a message on the Facebook page - link below
Mat & Paul
9th September 2020
To repeat the new 'overview' of all HaMeX EVENTS
- which is independent of any COVID 19 concerns
We have come to the conclusion that there was possibly one show too many in the HaMeX Events calendar - especially as The Model Market, just after New Year, and early Spring ones, (currently Media Modelling), were fairly close, and the Spring one not that far from smallspace in the Summer?
Consequently we have decided - for the time being - to reduce the Events from four to three. In effect what we will do is to 'combine' 'The Model Market' and 'Media Modelling events into one show, probably pitched somewhere in between the current dates. This will use the 'Media Modelling' name.
smallspace remains 'as is', usually held the first Sunday in July.
The pre-Christmas show will remain around that time – but will become The Model Market, (and as an aside, retain its numbering, ie the next – whenever this is - would be TMM8).
HaMeX as a separate show will cease – BUT of course remains the overall title of the events. So what it will end up as is HaMeX EVENTS puts on three model shows over the year – The Model Market, MEDIA MODELLING and smallspace.