HaMeX EVENTS – COVID 19 - and general
JANUARY 2021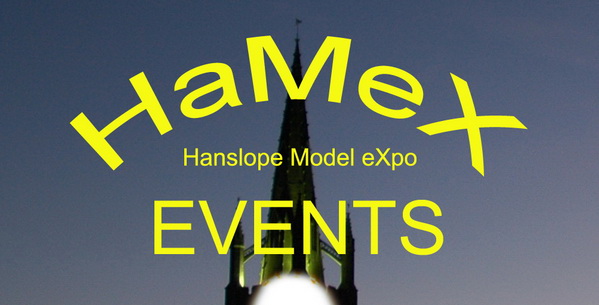 THE CURRENT SITUATION
There were plans to run what would have been The Model Market 8 late last year - but then new events overtook us
Now with the country being in 'Lockdown Part 3' the idea of attempting to name a date when we could run the next HaMeX Event, is becoming impossible
Obviously we continue to monitor the situation, but until things start to seriously 'ease' there is no point in even thinking about it
With the vaccine now being available, it is hoped things will - slowly - improve, though the 'new variants' don't exactly help.
As usual - thanks for staying with us - and 'Watch This Space'

Comments to the Facebook page...



or email info@hamex.co.uk
Paul Fitzmaurice – HaMeX Events
Mat Irvine – HaMeX Events & Trustee of Hanslope Village Hall
Jenni Allis – Trustee and Executive Committee of Hanslope Village Hall
----------------------------------------
To repeat the new 'overview' of all HaMeX EVENTS
- which is independent of any COVID 19 concerns
We have come to the conclusion that there was possibly one show too many in the HaMeX Events calendar - especially as The Model Market, just after New Year, and early Spring ones, (currently Media Modelling), were fairly close, and the Spring one not that far from smallspace in the Summer?
Consequently we have decided - for the time being - to reduce the Events from four to three. In effect what we will do is to 'combine' 'The Model Market' and 'Media Modelling events into one show, probably pitched somewhere in between the current dates. This will use the 'Media Modelling' name.
smallspace remains 'as is', usually held the first Sunday in July.
The pre-Christmas show will remain around that time – but will become The Model Market, (and as an aside, retain its numbering, ie the next – whenever this is - would be TMM8).
HaMeX as a separate show will cease – BUT of course remains the overall title of the events. So what it will end up as is HaMeX EVENTS puts on three model shows over the year – The Model Market, MEDIA MODELLING and smallspace
When HaMeX Events can begin again - there will be a new Application Form issued