An overview of the Hanslope Model Expo -
and the first HaMeX Show (post numbered '1')
29th November 2009
It was the first such local event and because of that, no one could be quite sure how it would be received.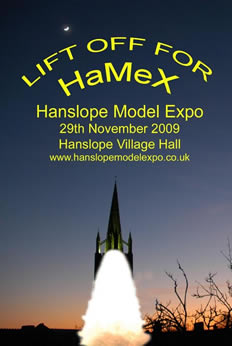 It was not going to be a 'conventional' model show, (if such an animal exists!), in that it came out of suggestion by a resident of the Village of Hanslope, Mat Irvine, about putting on a display of models and props that he had dealings with during his time as a Visual Effects Designer for BBC Television. This initially was all it was to be, but colleague Paul Fitzmaurice of little-cars.com - suggested holding a limited 'swap meet' of kits as well - given that it was close to Christmas - and a time of buying of presents. Add to this David Jefferis, who had recently started the website scalemodelnews.com, and you then had the three organisers. The event was then dubbed the Hanslope Model Expo - though that rapidly got shortened to HaMeX...
The Village Hall committee were very enthusiastic about this, agreeing to staff the event and provide refreshments.
Advertising was done to the model magazines and surrounding model clubs, plus in the Village itself and the Sunday arrived much to the organisers' trepidation. In the end all the available tables were filled, and we even managed to squeeze in 1½ extra tables as well!
| | |
| --- | --- |
| | |
| | |
| | |
| | |
Images show -
top row : general views of the Hall,
second : K-9 and Mat's daughter, Amy : the Liberator and two visitors
third : The lunar buggy and spaceships from MoonBase-3 - first time they have been displayed : happy members of the Northampton Model Club
fourth : left - organisers Mat Irvine and Paul Fitzmaurice (left & right), with trader Steve Hide, of SCN Hobbies, in between : right - David Jefferis
And below is the video shot by David, available on scalemodelnews.com; direct on youtube, or here :
---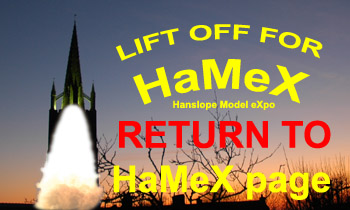 ---