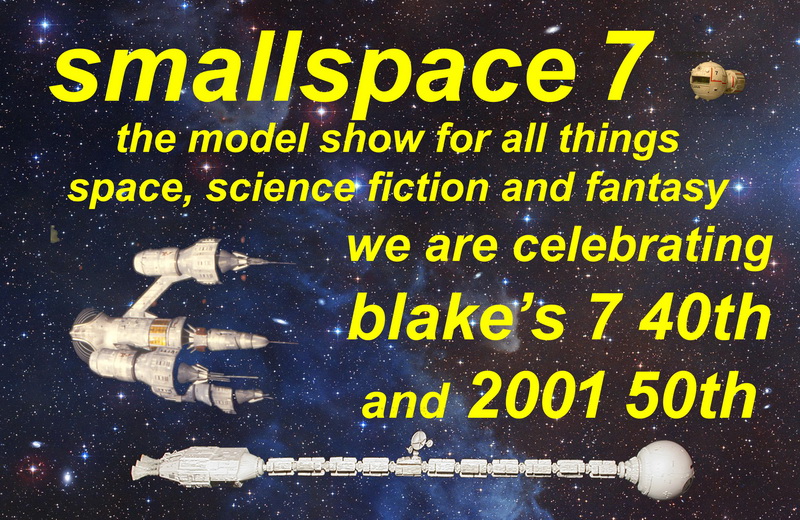 smallspace 7 took place on a boiling hot day - though hopefully not too hot!
Very many thanks to our guests - five this time (a record!) - and to all dealers, exhibitors, and of course, the 300 plus visitors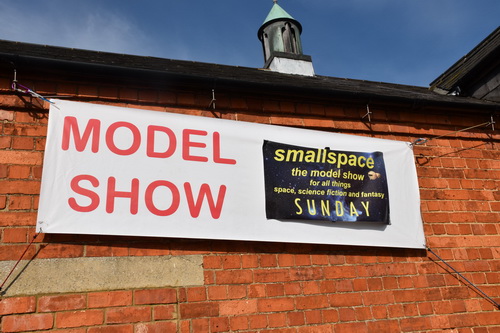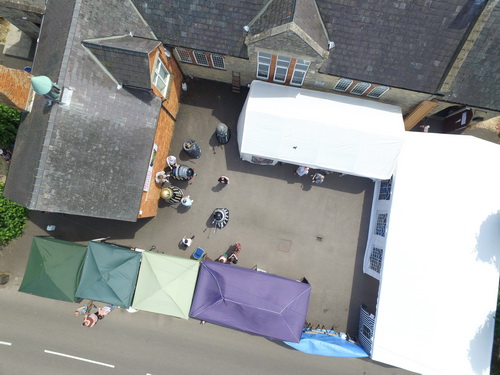 aerial shot courtesy of Chris Potter's drone
General opinion seems to be, "The best one yet... when's the next...?"
GENERAL SHOTS FROM THE DAY -
including Daleks courtesy of Davros, (via Rob Crowley, James Burgess, Iain McDonald and Scott Goodman)

THE GUESTS

right - Piers Bizony and Simon Atkinson, talk with a visitor

far right : Roger Murray-Leach, with the original Liberator model in the foreground

above left : Ian Kubiac, standing, who sponsored special guest, Michael Keating, otherwise known as Vila, in Blake's 7.

above : Mike Tucker and K-9, above right :Michael Keating, foreground, and Mike Tucker, background

left : Simon Atkinson
right : Simon, talking with Roger Murray-Leach

above left : Roger and Michael,

above : Piers and Simon - and the original 2010 Dave Bowman space suit

above right : all five guests

left :Roger and his design - the Liberator

right : in Vila's vault, Michael tries his old mode of transport for size - part of the flight-deck recreated by Phil Stevens, also in the picture

Mike Tucker bought along a selection of the models and props re-made for the 'final' remake of the 'missing' Doctor Who story SHADA

left : the space station,

right : Mike with some of the story boards

K-9 was also used - modified back to his 'Mk II' appearance by Mat Irvine

BEST IN THE SOLAR SYSTEM

This year's award went to Ian Crichton for his whole 'cyber-punk/steam punk' display

above : the award presented by Roger Murray-Leach and Michael Keating

above : Ian, with all five guests

above : Ian and trophy

left : the trophy appropriately against the 2001/2010 Bowman space suit,

right : the trophy by Ian's Liberator model

below : some of Ian's other creations and - below right - talking with regular attendee Richard Ashton

VILA'S VAULT

A special celebration of Blake's 7 assembled by the ExeWing crew of
- left - Karen Shields, Andy Spencer, Gary Holland and Phil Stevens.

below : Phil, with his recreation of part of the Liberator flight deck.

above and left & right :
more of VILA'S VAULT

Many of the models and props are original as are a number of the models - right and Orac - left - along with a distant cousin...

AND THERE IS OF COURSE MORE - A LOT MORE...

above left - Chris Mitchell taking an odd (or maybe normal?) pose...

above : David Sisson

above right : Chris Harding talking with US visitor John Jessup

left & right : Chris Osborne with his cyber-punk creations.

above left & centre : Fantasy Realms and Benn Clarkson

above right : Antares Creations with Clive and Zahara Anderhoven

left & right : Film Fangs with John Gozzard - left - and with Stu Carrier - right

above - winner of Best Dog in the Universe - 2017, created by Iain McDonald, above,

above right : James Burgess with one of his many sculptor creations. His younger brother, Robin, is in the background.

left : Martyn Lawrence and his film posters,

right : Janet-Elizabeth Black and her 1:3 scale figures

above left & centre : Alex Jackson and Century Castings

above right : Mooncrest Models

left and right : Phil Mills with his factual spacecraft display

above :
Rikki Wolfe and his - centre - Lost Projects

above : Rob Crowley and an open Dalek!

right : Another K-9 cousin arrives, with Simon Cook in tow

above : one of Mamas Pitsillis' creations - the Titan Terror Fish from Stingray

above : Warren Monks and Tirydium Models. Daughter Sophie is knitting Tom Baker a new scarf...

above left & centre : The Vogons' display (No poetry fortunately)

above right : Martin Higgs of the 'What If?' SIG - background - looks on at a Kaled creature in its Dalek casing!

left and right : Tony James and Timeless Hobbies

below :
West Middlesex Scale Model Club with Pete Hutton, Stephen Butler and Chris King

above : The Smiths Corona electric typewriter on which Arthur C. Clarke wrote the screenplay for 2001 : A Space Odyssey. Along with models of the craft from the movie.
Set up by - below : co-organiser Mat Irvine


above : Cris Simmons

left : Co-organiser Paul Fitzmaurice, with wife, Jackie, and their Modelling Tools stand

below : Mat's daughter Amy,
with the Dave Bowman space suit

right centre : guests and organisers

far right : Piers Bizony, Amy Irvine and Chris Grundy

For general information on the shows,
TABLE RATES, ENTRY FEES, VENUE, TRAVEL and MEDIA...
TABLE RATES
Dealer tables £25.00 each, in advance
You can pay by cash, cheque or PayPal
for PayPal, pay £25.50* to: paypay@hamex.co.uk
(*includes transaction fee)
For future booking information, contact Paul Fitzmaurice
ENTRY FEES
Adults £5
(this includes a free tea or coffee)
accompanied children, 16 and under, free
(children, 16 and under, are only allowed in with a responsible adult)
We reserve the right to review the price of entry in the future
All these events are put on primarily for the 'fun element', and profits are donated to the Village Hall funds
| | Click VENUE for full details of where all the shows are held |
| --- | --- |
| | Click TRAVEL for all details of getting to the event - and staying |
MEDIA
for PR or media enquiries contact Mat Irvine
---
---